Tips On Setting Up The Hottest Online Dating Profile
You enjoy making new friends and like the thrill of making a new acquaintance or maybe a romantic connection. Additionally, you are charming and witty enough to win someone's affection. But are you smart enough to build an online dating profile that beckons your best matches online? Does it help you get your person quickly and effortlessly?
Our tip? You should build an online dating profile that attracts—whether we like to admit it or not, beauty is what catches someone's attention.
With that said, we prepared a step-by-step guide on how to make a winning online dating profile. It should help you build a credible account and snag someone great in no time!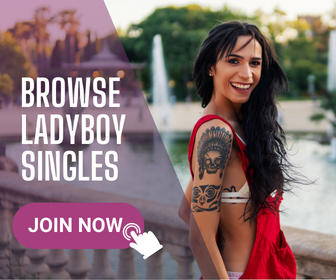 Five Tips to Set Up Your Online Dating Profile
Don't you ever wonder how some Ladyboy singles find dates so fast? It isn't because they're already famous when joining a dating service. It's because they built an eye-catching dating profile!
Want to make yours as attractive (if not more)? Below are the easy ways:
1. Post a great profile photo
You don't need to plan a full-scale photo session when creating your online dating profile to have the ideal image that draws someone in. Nowadays, people value authenticity above all else, so take that as your signal.
Post a profile photo that captures your sincere and cute side. If you want to include a photo of your furbaby in your profile, go ahead—research even suggests that you should!
When someone posts a profile photo with their cats or dogs, others find them endearing and reliable. If you share a picture of yourself with your furry friend, they'll also assume that you're amenable to commitment and affection.
Whether you're choosing a profile picture from your photo gallery or are still planning to have it captured, you should remember the following:
Pick pictures of you doing something fun, adorable, or engaging. Are you an adventurous person? Display it on your online profile. You could also choose a picture of you laughing—selfies of you, no matter where you took it or what you're wearing, are a no-go!
via Unsplash by Dhaya Eddine Bentaleb
Don't use a picture that has too many filters. Photo filters shouldn't make you look like someone else; they should only improve your image.
Yellow, orange, and red are the perfect eye-catching colors, so choose an image with some traces of these hues.
2. Create a fun image
Give your online dating profile visitors a glimpse of who you are as you write something about yourself. If you enjoy traveling, mention where and how that became your dream destination. When you paint them a clear description of your ideals and adventures, you also become alive to your profile visitors.
Don't divulge too much information about yourself to anyone who views your profile. Yes, exclude details about your flimsy preferences—they might judge you for being superficial before actually getting to know you. Things like height, weight, and wealth are not required.
While you're at it, keep in mind to avoid clichés. Leave it out; everyone says they enjoy "viewing the magnificent night sky" or "going to the beach." Who doesn't?
If you wish to capture attention, be original in a sea of same. Write something intriguing that might spark a discussion. Last but not least, keep your bio brief.
3. Have an honest profile info
Despite how cliché it may sound, the best course of action is still, to be honest. In the dating scene, lying won't get you very far.
Avoid lying merely to conform to social expectations. Imagine how irritating it feels or how it would hurt your feelings to find out that your Ladyboy date has been telling you lies. Besides, people today have become incredibly open and accepting of one's defects and imperfections.
Are you having trouble writing a fun or witty bio for your online dating profile? You may always use other people's accounts as your guide if you're having trouble coming up with ideas. That way, you would get some interesting ideas for your own.
4. Double-check your work
Make sure the details you put on your profile present you in a positive light. Your profile, including your photo and bio, must radiate positivism. So, avoid depressing potential matches or profile viewers by publishing depressing information on your page.
In a way, your online dating profile is your CV. To look perfect in the "recruiter's" eyes, you would want to curate something they would approve of error-free written bio or charming profile photo. Ask friends or family if your profile image is cute for them. And proofread your written information so that it is faultless for potential lovers to see.
[insert HTML Banner]
Poor grammar and spelling turn off a lot of people. You could always ask your family and friends to edit your profile for you. But you could also activate your phone's auto-correct if you're too shy to do so.
5. Keep your profile active
Keep your account active
Even after you've created your profile, stay active. Once in a while, check your account to see if any matches or pings from potential partners have been made.
You should also update your profile regularly. Include a new fact about you in your bio—just make sure it is appropriate for the internet. Just be careful not to upload or share anything too personal.
If your profile photo is more than a year old, change it with a fresh one. Many people lament how drastically different people appear in their online dating profile pictures and real life.
Trust in the process!
The process of creating an online dating profile can be both demanding and tedious. It's difficult to vouch for yourself without coming across as conceited or, worse, desperate. But like anything you truly want, you should be more patient with it.
Once you've completed entering your profile information, take a moment to unwind. Expecting to get hundreds of pings right now is unrealistic because online dating takes time. It takes time and patience, just like ordinary dating.
We do hope that you find your perfect person soon. Enjoy and trust in the process!